Congregation of the Sisters of St. Joseph in Canada Archives
Our latest news
We are grateful for funding assistance from Library and Archives Canada, Bibliothèque et Archives Canada, which made possible an Indigenous Internship in 2023-2024, through the Documentary Heritage Communities Program.
From August to October, I had the pleasure of working with Mary Grace Kosta, Congregational Archivist, and Noelle Tangredi, eLearning Developer/Graphic Designer and caretaker of the St. Joseph's Health Care Medical Artifacts Collection, to create an exhibit highlighting Mother Ignatia Campbell and the Sisters of St. Joseph's first endeavours in healthcare in London. I had previously assisted with in-house exhibits and a traveling exhibit, so I was excited to put my newly learned skills to work.
In 1868, shortly after their arrival in London, Ontario, the Sisters of St. Joseph founded Mount Hope to provide a home for Sisters, the elderly and orphans. It was renamed House of Providence, and continued to provide care for the elderly until 1966.
Land Acknowledgement
The Congregation of the Sisters of St. Joseph in Canada Archives is located on the territory of the Anishinaabeg, Onyota'a:ka, Attawandaron (Neutral), Lenape, and Wendat peoples. We pay our respects to Elders past and present.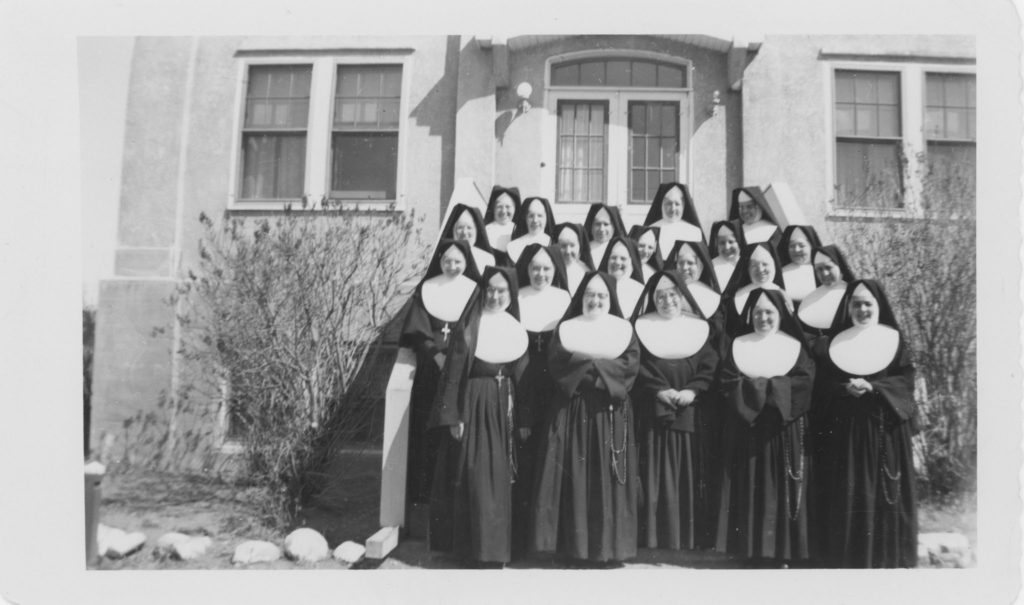 Copyright Notice
The photographs featured on this website come from the Congregation of the Sisters of St. Joseph in Canada Archives and, to the best of our knowledge, there are either no copyright restrictions associated with them because they are in the public domain, or there is no known copyright. The rights statement attached to these latter photographs is Copyright Undetermined: Rights Statements. In other cases, the copyright is owned by the Congregation of the Sisters of St. Joseph in Canada. The rights statement associated with these photographs is In Copyright Non-Commercial Use Permitted: Rights Statement
These images are intended for private reference and research, and we cannot assume liability for any other use of these photographs. The images on the website are in jpeg format. The images should not be altered or manipulated in any way. The images must not be used for commercial purposes. Proper credit must be given when any image is used, as follows:
Credit:
Images courtesy of the Congregation of the Sisters of St. Joseph in Canada Archives.
We are committed to observing copyright law. If we have inadvertently infringed on the intellectual property rights of copyright holders with respect to these photographs, please contact us with specific details.