Our Recent History
On November 22, 2012, these four congregations were amalgamated into one charitable corporation under the name Congregation of the Sisters of St. Joseph in Canada by the Congregation of the Sisters of St. Joseph in Canada Act, a Private Act of the Legislative Assembly of Ontario which received Royal Assent on June 13, 2013.
Hamilton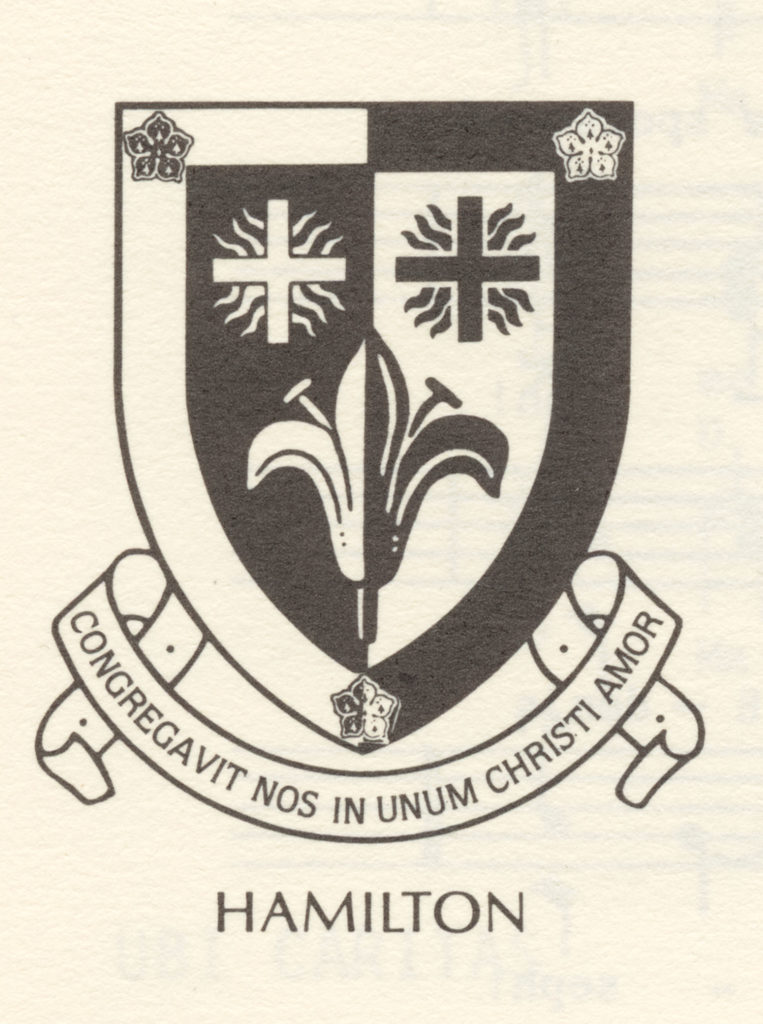 The Sisters of St. Joseph of the Diocese of Hamilton was first incorporated on December 30, 1879 under chapter 167 of the Revised Statutes of Ontario, 1877. The name was changed to The Sisters of St. Joseph of Hamilton in 1989.
On April 19, 1852, at the request of the Very Rev. E. Gordon, Vicar General of Hamilton and with the approval of Bishop de Charbonnel, the only Bishop in western Ontario at that time, three Sisters of St. Joseph came to Hamilton from Toronto. They opened their first convent on Cannon and McNab Streets. Here the Sisters ran a private elementary school and cared for orphans until 1857. In 1854, there was a cholera epidemic, followed by an outbreak of typhus. The Sisters were placed in charge of immigrants stricken with the disease and housed in railway sheds.
The Sisters founded St. Mary's Orphanage in Hamilton in 1852. Orphan care began with two orphan girls in the first convent. Beginning in 1856, residential care was provided for girls at the Motherhouse. In 1857, a girls' quarters opened in the convent at 204 Park Street. In 1864, a separate building was built for St. Mary's Orphanage with additions in 1874, 1881, 1884, and 1886. Then from 1933-1935, a building owned by the diocese was purchased at 354 King Street West and used for orphan girls. In 1936, a new Mount St. Joseph at the same location opened for girls with both boys and girls in residence from 1951 to 1960. The Sisters also provided residential care for orphan boys at the Motherhouse from 1856-1879, and then at the House of Providence, Dundas, Ontario from 1879-1900. In 1903, an annex was built for boys at St. Mary's, followed by a new building for boys at St. Mary's Orphanage in 1909. After this, from 1951-1960, boys were housed at Mount St. Joseph. The first Orphans' Festival was held in the town hall to raise money for orphans with annual collections in the district starting in the autumn of 1854. The Orphans' Festival lasted until 1956.
In 1856, the Sisters were placed in charge of separate schools in Hamilton following the passage of the Separate School Bill. Also in 1856, Hamilton became a diocese and St. Joseph's Convent opened on Park Street North as a Motherhouse and Novitiate, as the congregation became independent of the Toronto congregation. At the first Motherhouse, the Sisters cared for orphan girls, taught music, taught in the separate schools, visited hospitals, prisons, the sick and the poor, and served as sacristans, homemakers, and catechetics teachers. In 1858, the first election was held in St. Joseph's Convent chapel with Sister Martha von Bunning elected as General Superior on December 8.
The Sisters founded their first mission outside Hamilton in Paris, Ontario in 1858, where they served as teachers, organists, sacristans, homemakers and catechetics teachers. This mission lasted until 1974. This was followed in 1859, by the first mission house in Brantford, Ontario on Crown Street, and then by other mission houses in Brantford until 1983. In Brantford, they also opened Bethany House, a ministry to abused women from 1989-1994. Over time, the Sisters opened many other mission houses including in Kenilworth (1924-1971), Mount Forest (1908-1932 and 1944-1978), Hespeler (1944-1961), Arthur (1873-1876 and 1986-1989), Kitchener (1977-), Milton (1954-1989), Stoney Creek (1957-), Oakville (1860-1863), Guelph (1977-1989), Owen Sound (1886-1909), Red Lake (1981-), Chippewas of Nawash Unceded First Nation mission (Cape Croker) (1952-1986), and Netmizaaggamig Nishnaabeg (Pic Mobert) First Nation (2002-2020). In British Columbia, they opened missions at Nak'azdli Whut'en First Nation (Fort St. James) (1950-1969), Fort St. John (1954-1988), Dawson Creek (1976-1982), Chetwynd (1977-1983), and Terrace (1988-1992).
The Sisters briefly ran a boarding school in for girls in Hamilton from 1860-1867. More notably, they founded St. Joseph's Hospital in Guelph, Ontario in 1861, followed by the House of Providence in Guelph which was open from 1861-1959. In 1897, the Sisters started St. Joseph's School of Nursing in Guelph, and in 1948, opened a new school of nursing which lasted until 1972.
In 1878, the Sisters took charge of St. Vincent De Paul Society home on Bay Street in Hamilton for the care of the poor. After one year, the residents were transferred to the House of Providence. In 1879, the Sisters opened the House of Providence in Dundas. After a fire in 1900, it re-opened in 1902 and remained active until 1970. The year 1879 also saw the beginning of the House of Providence annual picnic on August 2. In 1970, the Sisters opened the new St. Joseph's Villa in Dundas, which replaced the former House of Providence.
In 1890, the Sisters founded St. Joseph's Hospital in Hamilton which had additions in 1894, 1916, 1941, 1947, 1951, and a new wing in 1962. This was followed by the opening of St. Joseph's School of Nursing in Hamilton which had its first nine graduates in 1915. The Sisters also opened a nurses' residence for St. Joseph's Hospital, called Undermount, on John Street in Hamilton. Later, in 1963, the Sisters opened St. Joseph's School of Nursing, Fontbonne Hall. The nursing school closed in 1972.
In 1923, the Sisters founded Casa Maria maternity hospital in Hamilton which was replaced by the maternity wing at St. Joseph's Hospital in 1951. In 1924, The Sisters opened St. Mary's Hospital in Kitchener, Ontario. In 1931, St. Mary's School of Nursing began in Kitchener, and remained active until 1972.
In 1951, the second Motherhouse, St. Joseph's Convent was completed in Dundas. Here the Sisters served as teachers, music teachers, catechetics teachers, and established a spirituality centre for retreats, workshops, and spiritual direction in 1983.
In 1955, the Sisters founded St. Joseph's Hospital in Brantford. This was followed in 1957 by the opening of St. Joseph's Training Centre for Registered Nursing Assistants in Brantford, which closed in 1980.
In 1959, the Sisters unveiled St. Joseph's Home in Guelph, and elderly people were moved into the second floor of the new building which contained a wing for the chronically ill. The programs and services were delivered in conjunction with St. Joseph's Hospital.
In 1960, Mount St. Joseph in Hamilton became a home to treat emotionally disturbed children and the remaining orphans were moved to foster homes.
The Sisters also started overseas missions. In 1963, they opened a mission in Teculután, Guatemala, and worked at a health clinic, as teachers, and as catechetics teachers until 1979. Later, they opened a mission in Nicaragua which ran from 1985 to 1989.
In 1991, St. Joseph's Community Health Centre opened in Stoney Creek, Ontario. Beginning in 1983 until 1991, the Sisters staffed and supervised Martha House, Good Shepherd Women's Centre for abused women and homeless girls in Hamilton. The Neighbour to Neighbour Program, St. Joseph's Women's Immigrant Centre, and Hamilton Out of the Cold program are but three more recent local initiatives where the Sisters have been instrumental in the foundation of local social services.