By Jennifer Robertson, Book and Paper Conservation Services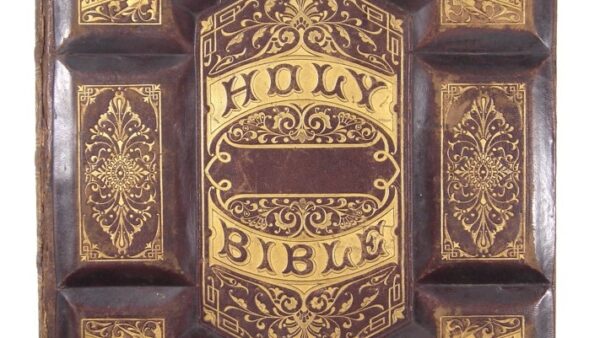 If you are lucky enough to have a family Bible that belonged to your ancestors, you probably treasure it very much. Family Bibles are often kept and passed down through generations, perhaps with precious memories attached of reading passages together, a special place in your relatives' home, or even with written records inside. They can be important sources of genealogical information if a family tree was kept, as many 19th century Bibles included specially printed pages for recording births, marriages and deaths in the family. Whatever the significance they carry, it is important to keep the physical book safe from damage and deterioration, so that it can continue to be passed down to later generations.
There are three factors that should be considered when caring for your family Bible; Environment, Storage, and Handling. All have an impact on the condition of your Bible, and you can make adjustments in many ways to keep it in good condition.
Environment
A Bible, like any book or artifact, is affected by the environmental conditions in which it lives. This includes factors like temperature, relative humidity (RH) and light. High temperatures and humidity can cause damage to the paper, cloth or leather used to make the Bible. The higher the temperature, the more dry and brittle the paper and leather will become, and the more likely it is to crack. High humidity, and the change between high and low humidity that is natural as weather swings from summer to winter, causes expansion and contraction of materials, putting strain on weak areas like covers, spine and endpapers. This also makes them more likely to crack, break or peel. Light can damage materials with sensitive dyes or colourings, resulting in faded and discoloured leather, cloth or illustrations.
The ideal environment for a Bible is between 18-21°C and 45-55% RH. Too high a temperature and too low RH results in brittleness and cracking, but too high can cause the growth of mould. These mid-levels are just the right amount to keep paper, cloth and leather healthy and supple. To keep your Bible safe, avoid storing it in a damp basement or dry attic, or close to a radiator or hot air vent. If possible, run an air conditioner and dehumidifier in the summer or a humidifier in winter if your home is very dry.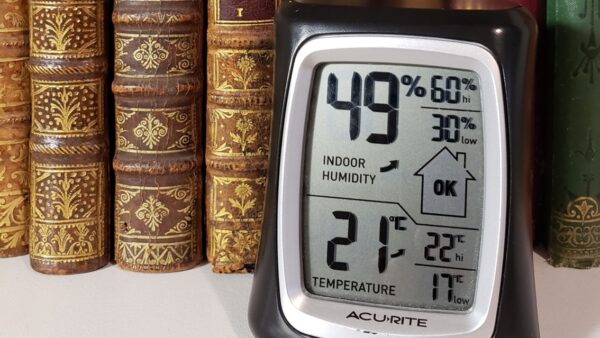 Keep your Bible out of direct light to prevent fading of materials. Direct sunlight falling on a bookshelf or high ambient light in a room with many windows can do damage after only a few months. A darker, interior room is best, or else keep the Bible in a drawer or storage box when not in use.
Storage
Careful storage can help preserve your Bible by keeping it safe from light, dirt and pests. Dust or soot from a fireplace, cigarette smoke or air pollution can soil or discolour your Bible, and frequent cleaning to remove these can also cause damage. If the Bible is kept in a seldom-used drawer or box with other items, it may also be tempting to pests such as silverfish, who like to eat the starch-based materials in paper and glue. A clean, dry, protected storage location goes a long way towards preserving a Bible or any special artifact.
An archival storage box or a clean, dedicated drawer or cupboard can offer safety for a Bible, protecting it from light and dirt, as long as some precautions are taken. If the Bible is large and heavy, it is a good idea to store it laying flat, on the back cover; if it is smaller, it can be stored standing vertically on a shelf, as long as it is supported on either side by other books of a similar size.
If you choose to store it in a drawer or cupboard, make sure the space is clean and dry, and line it with acid-free tissue or mylar to prevent transfer of acidity from wood or cardboard. Make sure there are no other objects close to the Bible that might cause damage when shuffled or jostled around. Wrapping it in acid-free tissue can also help to keep it clean and safe within the storage area.
An archival box is an ideal storage solution for a Bible. These come in different sizes, and are available from Library and Archives suppliers like Carr McLean or Brodart in Canada. They are made of special cardboard material that is acid-free and won't cause damage to books. Again, wrapping it in acid-free or buffered tissue within the box is a good idea, especially if the box is slightly larger than the book. A snug fit is best, so the book won't slide around if it is being moved. If you want to protect it more elegantly, you can commission a custom clamshell box to fit your book exactly, and have the box decorated and labelled in any way you wish.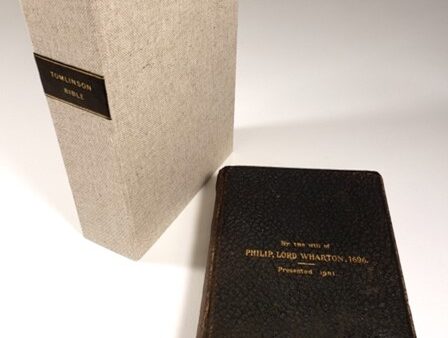 Handling and Use
Improper handling and use can cause a lot of damage to a delicate family Bible. Tears and breaks in the paper, detached covers, stains and spots all result from handling without proper precautions.
If you are going to take your Bible out to read or view, first make sure you have a clean, dry space to set it out and open it. Clear a table of other objects, and especially make sure there is no food or drink close by that could spill. Wash your hands with unscented soap and dry them thoroughly. Contrary to popular believe, clean dry hands are much better than white gloves for handling delicate books, as long as you are careful. Wearing gloves can dull your dexterity, and the cloth can catch on delicate pages causing them to break. The light oils on your hands can also help to keep the leather supple on the covers of a Bible.
If you are lifting it out of a box, go slowly and use both hands. If you are taking it off a bookshelf, be careful to grasp the book using your fingers and thumb on front and back covers, with your hand across the spine; never pull the book back with your finger hooked over the top and pulling on the spine, as this is likely to rip the endcap off and damage the binding.
When paging through the book, set it on the table and support the cover as you hold it open, either with one hand or a book cradle or support. This will help keep the book open no further than a 90° angle, and avoid cracking the spine. Try to avoid opening the pages all the way to 180°, or letting the cover bend back even further.
Be sure to use a pencil and acid-free paper to make notes, or to leave a marker in the pages. Never leave a post-it note, newsprint or other scrap of unidentified paper within the Bible, as they can transfer colour or acidity to the pages, causing discolouration. It should also be said, never use paper clips, staples, rubber bands or other objects to mark a page!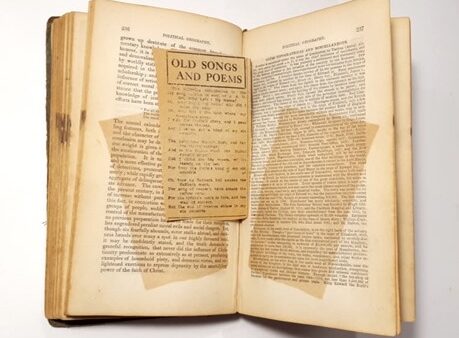 If you want to consult a specific page frequently, say to show the genealogical entries to family or friends, you might consider taking a high quality photograph and printing out the image, so that you can pass around a facsimile rather than putting strain on the original material. The more frequently the book is opened the more likely the binding will suffer irreversible damage, and if you are simply referencing the information you don't need to view the original page. However, avoid the use of a flat-bed scanner to reproduce a page in the Bible, as manipulating the book to lie open on a scanner bed is a risk to the binding. A digital photograph printed out is just as good, and can sometimes be enhanced to show text more legibly than the original.
In the past, collectors recommended applying oil-based leather dressing to bookbindings to keep the leather supple and soft; however, book conservators now advise against this, as excessive or inappropriate treatment can easily cause the opposite effect on leather. Keeping books clean and dry and away from extremes of humidity and temperature is a much safer way to preserve their bindings. If you have questions about repairs or rebinding options for your Bible, consult a professional conservator, bookbinder or archivist for more detailed information.
Following these guidelines will help preserve your family Bible for many years to come!
Resources
Resources:
Book and Paper Conservation Services – Conservation and repair, clamshell boxes etc.
Canadian Conservation Institute: Basic Care of Books
Library of Congress: Care, Handling, and Storage of Books
Brodart – Supplier of Library and Archives materials, such as archival storage  boxes, acid-free tissue, book supports, etc.
Carr McLean – Supplier of Library and Archives materials, such as archival storage  boxes, acid-free tissue, book supports, etc.