We are pleased to support the Archival Resources for Catholic Collections (ARCC) organization. The ARCC is dedicated to ensuring the preservation of Roman Catholic archives for future generations. The membership is made up of archivists, religious leaders, and scholars. The ARCC provides support by giving professional advice on the care of archival collections, providing educational opportunities, and serving as a forum for sharing knowledge and resources.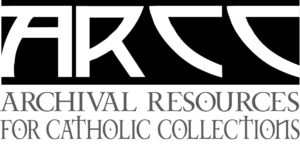 The ARCC has several working groups. The Repository Working Group recently initiated a Symposium Series, and the first webinar is available for view on the ARCC website. This webinar featured archivists from five different types of repositories providing guidance to archivists considering the future disposition of their archive when their communities near completion. The Repository Working Group is planning their second webinar on legal issues when considering seeking a new home for an archive. The Education Working Group is planning to also deliver a series of educational webinars, so make sure to join ARCC to keep on top of all these exciting opportunities.
The ARCC is committed to offering support, guidance, and training to all religious archivists.
Please visit https://archivalrcc.org/ to learn more.