Rhiannon Allen-Roberts, Associate Archivist, Congregation of the Sisters of St. Joseph in Canada Consolidated Archives

From August to October, I had the pleasure of working with Mary Grace Kosta, Congregational Archivist, and Noelle Tangredi, eLearning Developer/Graphic Designer and caretaker of the St. Joseph's Health Care Medical Artifacts Collection, to create an exhibit highlighting Mother Ignatia Campbell and the Sisters of St. Joseph's first endeavours in healthcare in London. I had previously assisted with in-house exhibits and a traveling exhibit, so I was excited to put my newly learned skills to work.

Mother Ignatia Campbell is an impressive historical figure. Serving as the first General Superior of the congregation and foundress of St. Joseph's Hospital are only a few of her many accomplishments. Our archives had prepared an in-house exhibit about her, and when that exhibit was being taken down in August, we reached out to Noelle to discuss potentially moving this exhibit to the St. Joseph's Hospital heritage corner due to her connection to the hospital and knowing that some of her artifacts were kept in the Medical Artifacts Collection. We already had a history of collaboration. Since 2016, our archives has been training students in museum registration skills to catalogue the artifacts collection. In exchange, we have repatriated archival materials from the hospital to the archives. Together, the three of us decided that, since this event was to be hosted at the hospital, we should expand the focus from just Mother Ignatia to include the early days of the hospital. We also decided to include Mount Hope, as that was the first care facility the Sisters operated in London, and it is from it that the hospital grew.

With this in mind, I began my research. I dived deep into the life of Mother Ignatia Campbell, learning all I could about her and the early days of the Sisters of St. Joseph in London. I perhaps collected too much information, as I had 18 pages of detailed notes to compress into the exhibit description. But from my research I learned so much about Mother Ignatia Campbell, so many little anecdotes about her life that impacted her and led to her becoming the leader that she was, that I cannot find it in myself to think that it was truly too much. The thing about historical figures is that as time passes, they may seem less human. I wanted my exhibit description to cover everything about her and to get the viewer to empathize with this woman just as I had while doing my research. But that's not possible in the small word count needed for an exhibit. How do you compress a person's life into 500 words or less? Things must be cut, simplified, and minimized to get the main points across. I felt like I was erasing parts of Mother Ignatia. How could the viewer of this exhibit empathize with her as I had if they did not understand all she had gone through? If they didn't know about the girl who left her home to dedicate herself to a life of faith at only 15 years old? Or how she questioned her faith enough to want to leave the congregation, only to stay and never doubt it again? Or how that moment impacted her for the rest of her life and made her compassionate to those questioning their own faith? And what about the Sisters, doctors, and staff who worked by her side and under her direction and who dedicated themselves to providing healthcare?
These figures were no longer just names on paper to me but people with compelling stories that deserved to be told. I desperately wanted to covey all of this to those viewing this exhibit, to try to get my exhibit description to show that these historical figures were people just like us who worked diligently to accomplish great things. In the end, even after chopping down so many anecdotes, the description was three pages long. This length would be fine for a short report, but it was far too long for an exhibit. I think this was the hardest part of designing the exhibit – deciding what points were most important to highlight. Luckily, I had Mary Grace's experience to help me to chop down the unneeded fluff and highlight the key historical points. Her best advice was to "Let the artifacts speak for themselves!" With that and the focus on the early days of the Sisters' work in healthcare in mind, I was able to compress the exhibit description into a far more acceptable length. I then sent it to Noelle who constructed beautiful graphic designs to display the text alongside photographs that I digitized from the archives.
The shift in focus from the original in-house exhibit also meant that we needed to reevaluate what artifacts to include. We wanted to keep the focus on Mother Ignatia but to make sure that the artifacts told the story of the Sisters' involvement in healthcare. Mary Grace created a list of all the artifacts in our holdings that were connected to Mother Ignatia, Mount Hope, and St. Joseph's Hospital. Then Noelle and I reviewed the artifacts and decided what to include, with Noelle adding the additional items that would be included from the Medical Artifacts Collection. We had to carefully decide on a balance between the personal artifacts of Mother Ignatia, the religious artifacts to highlight the foundations of the Sisters' practices, medical artifacts to show what those early days of medicine were like, and daily life artifacts to show what life was like at that time. Each of these themes expanded on what was included in the exhibit description, allowing these artifacts to tell the story visually.
While preparing the artifacts, I learned about the importance of keeping track of what artifacts have been exhibited, and for how long, to reduce the light damage to which they would be exposed. We had to consider the physical limitations of the exhibit space, but Noelle came prepared with the dimensions of each case and we were able to determine a rough lay-out of where everything could fit. After this, I completed condition reports to record the condition of the artifacts prior to display. I learned that this is an especially important task when artifacts are going off-site, as it can help determine when an artifact is damaged and it is important for insurance purposes.

With our artifacts selected and Noelle working to prepare the graphic designs, the next step was to pack the exhibit and set it up. Then, tragedy struck! I fell ill and was unable to assist with the packing, delivery, or set-up. Luckily, Noelle and Mary Grace are a well-oiled machine, having worked together many times, and they set the whole exhibit up with no help needed from me. While I'll hopefully be able to assist with the exhibit take-down, I'll just have to be patient and hope that the next time our two institutions collaborate I'll be able to assist with the set-up.

The fruits of our labour are now displayed in the heritage corner at St. Joseph's Hospital, Zone A, Level 1, near the Richmond Street entrance. There, it is my hope that the artifacts speak for Mother Ignatia Campbell where I could not. That the viewer sees the habit and thinks about how she would pin her veil just-so with care each morning, how she would have used an oil lamp to check on the charges at Mount Hope, how she would have held those rosary beads in her hands while she prayed with all her conviction. That the viewer thinks about how that magnificent hospital was founded by committed people who did all they could to provide the most efficient healthcare possible. I think that is the power of the exhibit, to make the viewer connect these artifacts with the lofty historical figures. I hope that those who see the exhibit will see Mother Ignatia Campbell as she was; a diligent leader, a woman of extraordinary faith, and a person, just like you or me.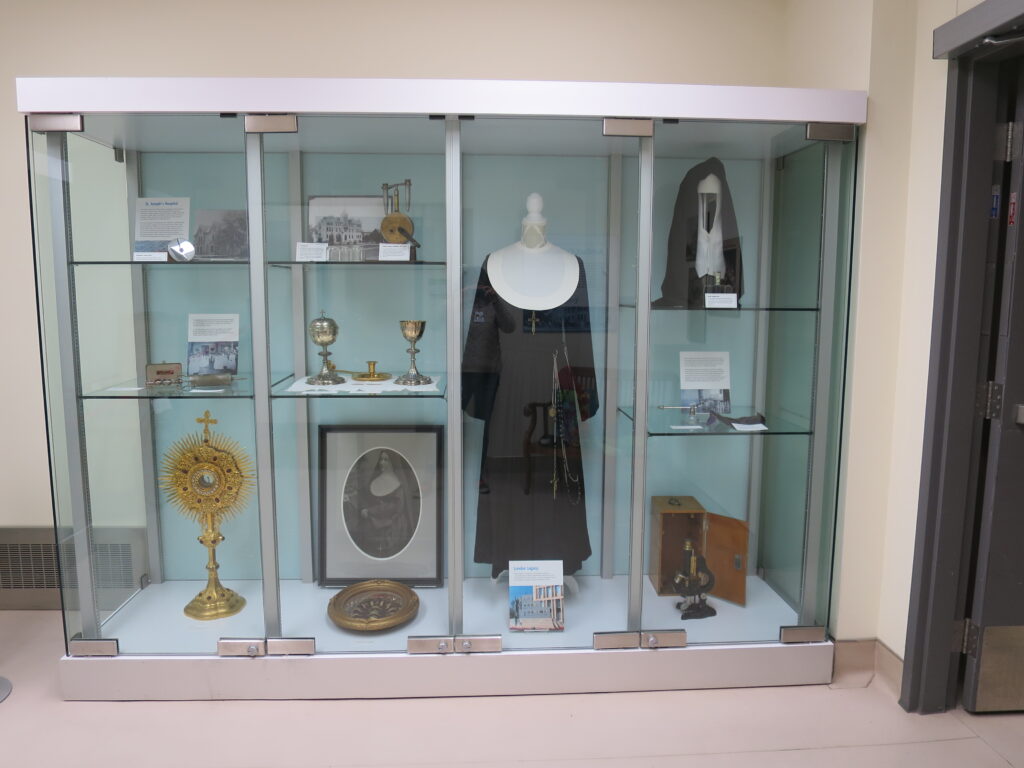 For more information about the display, please visit: The enduring legacy of Mother Ignatia